K40 Laser Cutter
Jump to navigation
Jump to search
Chinesium K40 Laser Cutter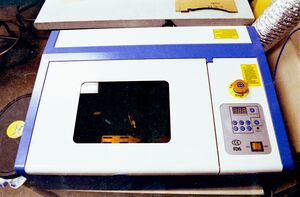 Location: Electronics Room
Ownership: Mag Laboratory
Status: Fully Working / Upgrades Pending
Usage Restrictions: Laser Cutter Qualification
Laser Cutter
Brand: Chinesium
Model: K40
Quality: Prosumer/Professional
Cutting Area: TODO
Materials: TODO

Getting Started
TODO
General Advice and Precautions
Do not place hand along laser path.
Software Support
TODO
Materials
TODO
History
The K40 is a complex machine with a history of previous activity. Delve into the mysteries of this delightful machine here.
Gallery
Aluminum Air Assist
2021-05-03 "Cloudray" aluminum air assist nozzle installed
Laser Tube
The laser tube was replaced after being broken from a loss of cooling incident on 2021-03-17.
Laser Path
The focusing mirror was broken on 2021-01-26 and subsequently replaced on 2021-02-01.
Air Assist Upgrades
User:BLu added a drag chain for the air assist on 2021-01-24.
The air assist pump and nozzle were installed on 2021-01-31.
Alignment
User:BLu first aligned the laser on 2020-12-24.
Acquisition
The K40 laser cutter was purchased by User:BLu on 2020-12-03 and arrived at MAG Laboratory on 2020-12-07.
Future Upgrades
The K40 is due for many future upgrades including but not limited to:
air assist
height adjustable table
visible laser cutting locator