Tiger II
Jump to navigation
Jump to search
Tiger II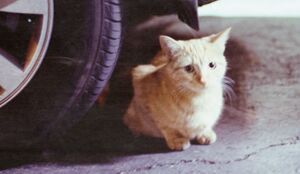 Ownership: The Juan's
Status: Adopted Out
Usage Restrictions: She's clingy
Cat
Color: Orange Tabby
Tail: Fully Working
Birthday/Age: 2020 April
Quality: Friendly
Materials: Cat Food
Usage: Cat Poop and Lap Warming

Adoption
Tiger was adopted out to the Juan's and lives with the middle sister in... Berkeley, California?
About Tiger II, by Brandon
Tiger arrived at the space by accident or something. She wouldn't stop meowing and made herself at home under the Miller Dialarc while Brandon was trying to leave the space to go home during the middle of the night.
Her namesake comes from the original Tiger since he was also an orange tabby. Female orange tabbies are apparently really rare....
She's exceptionally friendly and doesn't mind being picked up. She prefers under-arm. You can put all legs on one hand, and she won't mind. Hind leg support is still recommended.
Stories about Tiger
Tiger's Curious Lighting Fixture Adventure
It was another normal evening at the MAG of Labs. I was in the conference room doing the usual nothing when I heard a band and a thud coming from the shop area. It sounded like a trash can falling over.

I noticed that the black wheeled trashcan was knocked over, and I also found that one of the fluorescent lighting fixtures was swinging.

It didn't take me long to figure out what had happened: Tiger loves to climb on the pallet rack storage area. Tiger doesn't like jumping down for some reason, and she spends a large amount of time on the pallet rack trying to find a way down by jumping up. There was a particularly large box on the pallet rack that could be used as a platform to jump onto a lighting fixture. Tiger jumped from that box onto the lighting fixture only to find herself falling down and into the black trash can.

Poor Tiger.
Tiger's Spay Return
Tiger was spayed just in time. She was apparently in heat which made my medical bill a bit higher than it normally would have been.

After Tiger was spayed, she was really lethargic. I had her in my lap, and she had a hard time getting out of my lap... only to fall on the floor and roll a few times in her confusion. She made her way to the temporary litter box in the bathroom and apparently needed to use it very badly.

She would literally stumble on the ground in an inebriated fashion after being under general anesthesia rather than "go" in your lap.
Medical History
Tiger has received her vaccines and rabies shot on 2021-01-19. She was spayed on 2021-02-09.